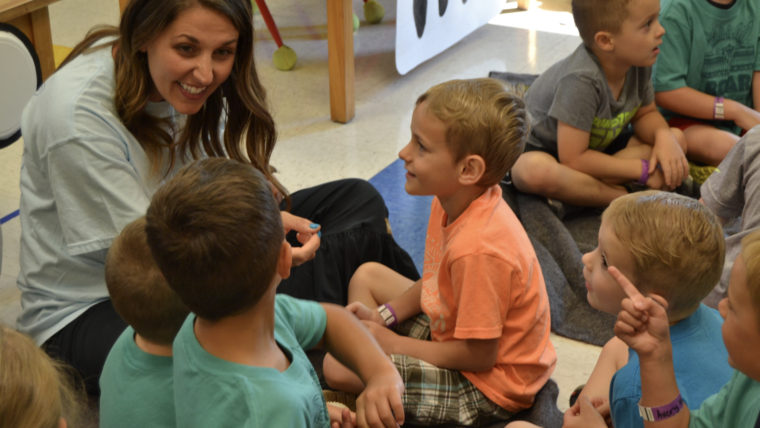 This week we are in the midst of VBS (Vacation Bible School) at Salem! The first two days have been awesome with a record number of kids having a blast. My only responsibility is to greet parents as they arrive for drop-off and pick-up through our car line.
This morning as I was greeting people, I was reminded of a family trip we made to Disney several years ago. We were there celebrating our daughter's 18th birthday and our last family trip before she entered college.  It was a fantastic experience!  In honor of our daughter's birthday Disney prepared a birthday pin for her that she wore throughout the park.  I admit I thought it was a little cheesy at first.  As I have reflected on that experience and the pin, I wanted to share 4 similarities between VBS and Disney that should continually influence our ministry.
A smile is magical! During our trip, I was determined to figure out what was so magical about Disney.  Everywhere I looked there were people smiling.  Granted there were a few children experiencing temper tantrums, but for the most part lots of smiles.  As followers of Jesus, we have much reason to smile.  As the children's song of old says, "If you're happy and you know it then your face will surely show it…"  At VBS a smile is magical and contagious! I am grateful for volunteers who smiled today!
Names are important!  Everywhere we turned Disney employees, regardless of their roles, would say "Happy Birthday Abbie!"  Without fail, every time I could see the joy in my daughter's eyes when people called her by name.  Names are important.  In ministry, we need to remember names.  It communicates so much when we mention a person's name.  Regardless of your role in the Kingdom of God, don't use the excuse "Well, I'm just not good with names."  Names are important at VBS and in life!
Celebration is a created culture!  This is connected to the lesson about names, but it was fascinating how Disney has created a culture of celebration.  I recall one afternoon we were entering Epcot and a Disney greeter on a segway noticed Abbie's birthday pin.  And without exaggeration, he began to declare to everyone entering the park "Hey everyone, it's Abbie's birthday!"  Then he began to sing Happy Birthday to her in a humorous but special way.  It was awesome!  As followers of Jesus we celebrate God's gift of His Son and the transformation He makes in our lives by His grace through faith.  And yet for many churches there is not much celebration happening.  Celebration is a created culture that as followers is grounded in what God has done for us! If nothing else, VBS is an opportunity to create a culture of celebration for who He is!
People matter!  Whether it was a photographer, Epcot greeter, street sweeper, ride attendant, or waver at the exit, we left Disney knowing that our daughter felt special – she mattered.  Never be too busy to let people know they matter.  It will provide opportunities to minister like no other. VBS communicates to parents that their kids matter! One of the reasons I like to greet parents in the parking lot is to let them know we are honored they are here and they matter!
What am I missing? What other lessons can we learn as we influence children through VBS?