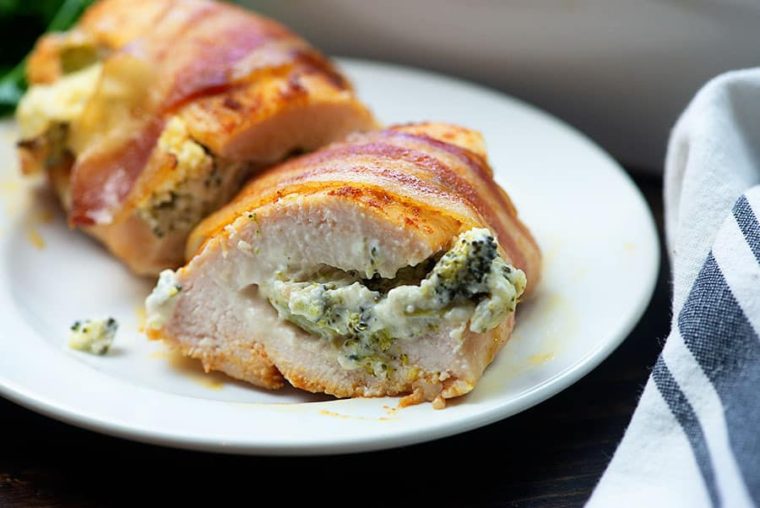 With the new year, we (meaning actually my wife) have begun a new low-carb eating plan. We typically eat some time of protein and fresh veggies for dinner. However, we have been tryin out a few new recipes. For today's Taste Test Tuesday post, I wanted to share a recipe for broccoli and cheese stuffed chicken. It was crazy good! The original recipe was posted on thatlowcarblife.com and we made our own modifications.
Ingredients
4 chicken breasts
2 tablespoons olive oil
2 teaspoon paprika
2 teaspoon salt divided
1/2 teaspoon garlic powder
1/2 teaspoon onion powder
2 tablespoons curry powder
1 3/4 cup chopped broccoli
4 ounces cream cheese softened
1/2 cup grated Parmesan
4 tablespoons mayonnaise
1 tablespoon minced garlic
8 slices bacon
Instructions
Preheat oven to 375 degrees.
Place the chicken breasts on a cutting board and use a sharp knife to cut a pocket into the side of each chicken breast.
Drizzle chicken with olive oil.
Add the paprika, 1 teaspoon salt, garlic powder, onion powder and curry powder to a small bowl and stir to combine.
Sprinkle evenly over both sides of the chicken.
Add cream cheese, Parmesan, mayonnaise, garlic, and remaining 1 teaspoon of salt to a small mixing bowl and stir well to combine.
Stir in the broccoli.Spoon the cheese mixture into each chicken breast evenly.
Wrap each piece of chicken with 2 pieces of bacon (we like bacon).
Place the chicken breasts in a 9×13 baking dish. Bake, uncovered, for 30 minutes or until chicken is cooked through.
Place pan under the broiler to crisp the bacon more, if desired.
Let me know what changes you make to the recipe and share your thoughts!