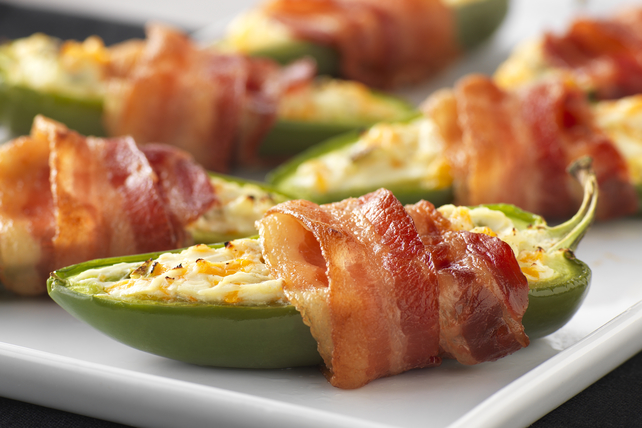 Even though I took a break from writing, we still love to eat! One of our discoveries during college football season was bacon-wrapped jalapeño poppers. With a little preparation, they are a delicious appetizer or side dish.
INGREDIENTS
• 6 whole jalapeno peppers
• 6 oz cream cheese the block, not the spreadable
• 1 green onion finely minced
• 1 teaspoon of a barbecue spice rub (I had a homemade rub leftover from when I smoked pork)
• 1.5 oz sharp cheddar cheese shredded
• 12 slices bacon
INSTRUCTIONS
1. Cut the stem off each jalapeno and cut in half lengthwise.
2. Using a small spoon, scrape out seeds & membranes.
3. In a small bowl combine cream cheese, green onion, spice rub and cheddar cheese. Stuff into the jalapeno halves.
4. Wrap each jalapeno completely with bacon ensuring the cheese is covered. Secure with toothpicks.
5.  Preheat to 425 degrees
6.  Place on a parchment lined pan and bake about 18-23 minutes or until bacon is crisp and cheese is melted.
Enjoy! Let me know how they turn out and what improvements you make to your own recipe.